To contact us, call us at (508) 655-6698 or email us at ingrid@ingridfrankprosthetics.com
Prosthetics
---
Definitions
Prosthetics: science and practice of evaluating, measuring, designing, fabricating, assembling, fitting, adjusting, or servicing prosthesis under an order from a licensed physician.
Prosthesis: artificial medical device that is not surgically implanted which is used to replace a missing limb or appendage such as artificial limbs, hands, fingers, feet or toes.
Prosthetist: person who measures, designs, fabricates, fits, or services prosthesis as prescribed by a licensed physician, and who assists in the formulation of the prosthesis prescription for the replacement of external parts of the human body lost due to amputation or congenital deformities or absences.
---
What we do
At Ingrid Frank Prosthetics, Inc. you will be evaluated for maximum fit, function, comfort and cosmesis. Our job isn't done until your device is designed to give you satisfactory confidence and improve your quality of life to the highest degree possible. Sometimes several fittings are required to achieve the the most comfortable, supportive and lightweight device. At our first meeting, we will explain each step of the process to you and answer all your questions completely. We are here to help you complete your rehabilitative experience with us in the most supportive, empathetic and compassionate way possible. Patient education is extremely important to us. Family members and close friends have a great interest in their loved ones' care and we are sensitive to that fact. We are always eager to include everyone concerned in the learning process.
We feature light-weight, state of the art prosthetics and orthotics and will work with you to create a customized solution specific to your needs. We specialize in "hard to fit" clients and will work with with you to face the challenges that come up, making every effort to restore your comfort, function, and mobility to its full potential.
---
Prosthetic Devices
Post-Operative Care

Educational information

Complimentary evaluations

Consults


Rigid removeable dressings

Stump shrinkers
Below Knee Prostheses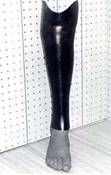 Ultra-light weight/thermoplastic construction




Newest technology suspension



High activity feet
Above Knee Prostheses


Microprocessor knees


Ultra-lightweight construction


Flexible sockets

Computer aided socket design

Lifelike soft covers

Hydraulic-pneumatic safety knees

Dynamic response feet
Symes Prostheses

Canadian socket design

Expandable inner sockets

Energy storing alignable feet
Specialty Prostheses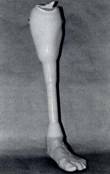 Water/shower legs

Toe fillers

Custom and off the shelf compression garments

Mastectomy products
---
© Ingrid Frank Prosthetics Inc. -- ingridfrankprosthetics.com 2005-2009
Contact us at ingrid@ingridfrankprosthetics.com or at (508) 655-6698
Webmaster: Jon Frank